Photovoltaic mounting systems are an important component of solar power generation systems, supporting solar panels and converting solar energy into electricity. With the continuous development of technology, future photovoltaic mounting systems emphasize innovation, intelligence, and sustainability, which remind us of the future world in science fiction. In the future science fiction world, people can cross the mortal world and explore the stars through space navigation. In this world, photovoltaic mounting systems are also undergoing revolutionary changes.
光伏支架是太阳能发电系统中重要的组成部分,支撑着太阳能电池板,将太阳能转化为电能。随着技术的不断发展,未来的光伏支架强调创新、智能和可持续性,这些特点让我们想起了科幻小说中的未来世界。在未来的科幻世界中,人们可以通过宇宙航行实现跨越凡尘,探索星辰。而在这个世界里,光伏支架也发生着革命性的变化。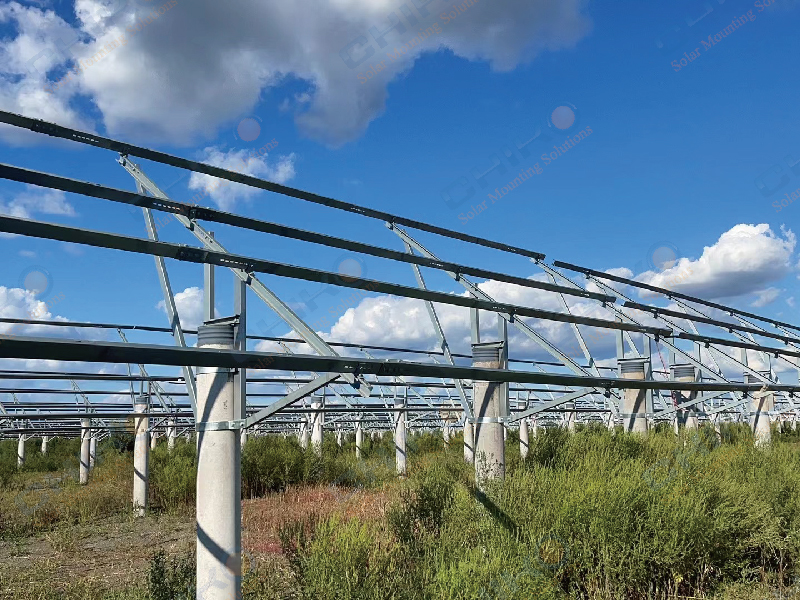 The photovoltaic bracket has mobility and flexibility:
光伏支架具有可移动性和灵活性:
Future photovoltaic mounting systems will have mobility and flexibility to adapt to different terrains and environmental requirements. For example, CHIKO Solar can develop lightweight, foldable and movable mounting systems not just for power station but for car. These mobile photovoltaic mounting systems can be quickly installed and disassembled, and can provide a larger coverage area for solar power plants to achieve more efficient solar power generation.
未来的光伏支架将会具有可移动性和灵活性,以适应不同地形和环境需求。例如,晨科太阳能可以研发出轻便的折叠式支架和可移动的车载支架等。这些移动式的光伏支架可以快速安装和拆卸,并且可以为太阳能电站提供更大的覆盖面积,以实现更高效的太阳能发电。
The photovoltaic mounting system has intelligence and automation:
光伏支架具有智能化和自动化:
Future photovoltaic mounting systems will also become more intelligent and automated. With the rapid development of technologies such as artificial intelligence and the Internet of Things, photovoltaic mounting systems can have more intelligent functions, such as remote monitoring, automatic angle and direction adjustment, etc. These functions can help solar power generation systems capture solar energy more efficiently and increase power generation.
未来的光伏支架也将会更加智能化和自动化。随着人工智能和物联网等技术的快速发展,光伏支架可以具备更多的智能化功能,如远程监控、自动调节角度和方向等。这些功能可以帮助太阳能发电系统更加高效地捕捉太阳能,并提高发电量。
Photovoltaic mounting systems are environmentally friendly and sustainable:
光伏支架具有环保和可持续性:
Future photovoltaic mounting systems will also pay more attention to environmental protection and sustainability. The commonly used photovoltaic support materials in the current market include aluminum alloy, stainless steel, and carbon steel, but these materials consume a large amount of energy during production, transportation, and installation, which poses certain environmental problems. Therefore, in the future, more environmentally friendly and durable materials such as composite materials and nanomaterials can be considered to reduce their impact on the environment and improve the sustainability of solar power generation systems.
未来的光伏支架还将更加注重环保和可持续性。目前市场上常用的光伏支架材料包括铝合金、不锈钢和碳钢等,但是这些材料在生产、运输和安装过程中会消耗大量的能源,存在一定的环境问题。因此,未来可以考虑使用更加环保、耐用的材料,如复合材料和纳米材料等,以降低对环境的影响,提高太阳能发电系统的可持续性。
In the future science fiction world, photovoltaic mounting systems will become both beautiful and practical devices, which can automatically aim at the sun, capture more solar energy, and achieve more efficient power generation. CHIKO Solar has always been a leading enterprise in the field of photovoltaic mounting systems. The company not only has leading technology, but also focuses on sustainability and environmental protection, committed to creating a better future for humanity.
在未来的科幻世界中,光伏支架将成为一个既美观又实用的器件,它们可以自动地对准太阳,捕捉更多的太阳能,实现更高效的发电。一直以来,晨科太阳能都是光伏支架领域的领军企业,公司不仅拥有领先的技术,还注重可持续性和环保性,致力于为人类创造更加美好的未来。
---
Post time: Nov-13-2023